Events News & Rumors
24 September 2017 Camille Comment
It was announced a few days ago : Jaimie Alexander will attend the Action Icon Awards on October 22 because she has been named their Action Icon this year!

Save The Date: Sunday, October 22, 2017 for the #ActionIconAwards honoring the women in action Film/TV #stuntwomen https://t.co/LernEdfrPF pic.twitter.com/tLj7djAxA4

— Action Icon Awards (@ActionIconAward) 20 septembre 2017
Gallery Updates Modeling News & Rumors Photoshoots
8 July 2017 Camille Comment
Jaimie Alexander is one of the faces of Rag & Bone's fall 17 campaign! The actress appears in the fashion house's latest photo project wearing pieces from its upcoming collection, including a white silk vest while her cropped dark hair is slicked back. Photographed by Glen Luchford, the new set of images, which also feature musician and model Staz Lindes and fashion stars Lottie Moss and Selah Marley, are a follow-up to Rag & Bone's 'Portrait Series' for fall 17, which the brand unveiled during its New York Fashion Week presentation in February. Jaimie and her co-stars were chosen by co-founder, creative director and chief executive officer Marcus Wainwright for their contributions to and influence on the label. (source) I've created a new category on the gallery inside the Photoshoots one : Modeling. You can find there the ad and the picture in HQ !

News & Rumors Videos
27 June 2017 Camille Comment
We learned a while ago that Jaimie Alexander would appear in the FOX show The F Word with Gordon Ramsay. It was announced yesterday that this is coming very soon since the actress will be on TV tomorrow ! Pics are coming soon on the gallery! Check out this sneak peek:

Don't mess with @JaimieAlexander in #TheFWord kitchen. She and @GordonRamsay are cooking up a storm, Wednesday on FOX. pic.twitter.com/luVeFZ1zLC

— The F Word (@TheFWordFOX) June 26, 2017
Blindspot Gallery Updates News & Rumors TV Series
21 June 2017 Camille Comment
Jaimie Alexander is back to work on the set of Blindspot this week with the crew in Venice, Italy. She will be filming there until friday (June 23rd) and I hope we will get pictures from the set! But for now, we have two pictures Jaimie posted on instagram. We can see she wears the same outfit from the season 2's finale (and people said she looked like Michael Jackson!) and Sullivan Stapleton was seen wearing the ring. I'm really looking forward to discover what the writers are doing for season 3 !

Blindspot News & Rumors TV Series
21 June 2017 Camille Comment
Hi everyone ! We finally have a premiere date for Blindspot's 3rd season ! It will return Friday, October 27 at 8/7c. Make sure you save the date so you don't miss it !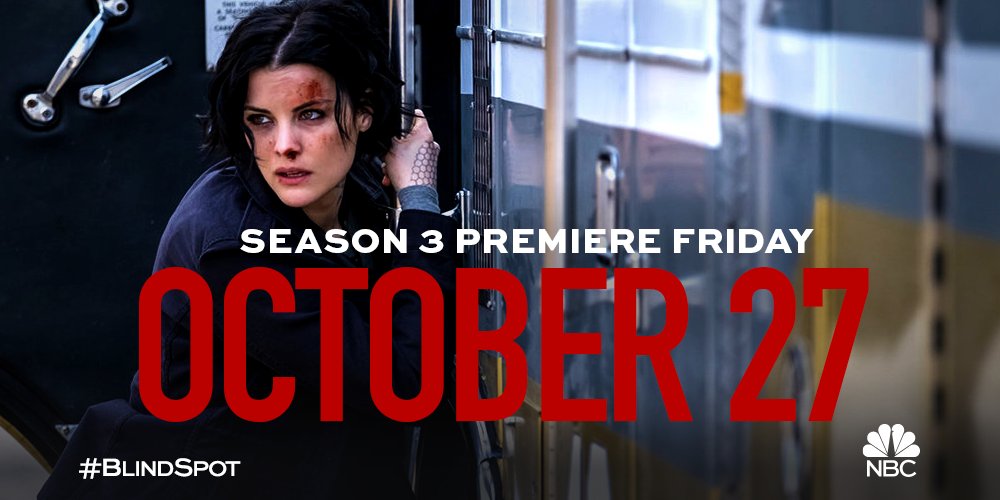 News & Rumors
12 March 2017 Camille Comment
Blindspot News & Rumors TV Series Videos
14 September 2016 Camille Comment
Don't miss the Blindspot season 2 premiere tonight on NBC. And if you can't watch it live like me, make sure you avoid spoilers as the episode will reveal a lot (Jane's real name!). Here's a sneak peek for tonight's episode:

Movies News & Rumors Thor: Ragnarok
20 May 2016 Camille Comment
Today, Marvel.com announced the new and returning actors for Thor: Ragnarok (article here). And I was disappointed but not really surprised to see that Jaimie was not part of that list… However, Jaimie tweeted something veryyy interesting a few minutes later. I really hope it means we will see her playing Lady Sif again !

Don't worry ;) …. https://t.co/LvbYNWmBNa

— Jaimie Alexander (@JaimieAlexander) 20 mai 2016